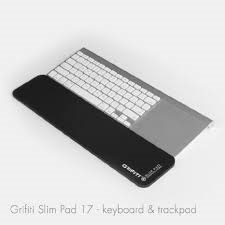 Grifiti Fat Wrist Pad
Manufacturer
Miscellaneous
Detailed information

For 12 Inch 10keyless Mechanical Keyboards and small laptops and MacBooks. 4 INCH WIDTH IS MUCH BETTER! Wrist Pad only. No keyboard or laptop included! This is our Grifiti Fat Wrist Pad 12, which is a NEW size! We now make this 4 inches wide x 12 inches long x 0.75 inches tall to fit small mechanical keyboards, MacBooks, laptops, and notebook computers.
• his is a really nice non-skid base made of squishy neoprene for a soft wrist rest.
• This has a smooth black washable nylon surface for comfort and an attractive look.
• Check out our Deck 13keyboard platforms and lap decks. This Fat Wrist Pad 12 works great with them!
• Get a Fat Wrist Pad 8 (mouse wrist pad) for a set! Check out our Fat Wrist Pad 8, 12, 14, 17 for standard keyboards, Big-Ass Wrist Pad 17 for our deluxe 8 inch wide wrist pad for standard keyboards, and our slim wrist pad 5, 12, 17 for Apple keyboards and trackpads and other slim profile keyboards. Nootle iPad mounts, big-ass bands, and mood mouse pad, too!